BALI
Bali is magical. As probably the most famous island in Indonesia, Bali blends spectacular mountain scenery and beautiful beaches with warm and friendly people, a vibrant culture and out of this world resorts.
Travel & Leisure Magazine has awarded Bali the World's Best Island in 2009, while the Lonely Planet's Best of Travel 2010 ranked Bali second place among the world's Top Regions.
Also known as the Land of the Gods, Bali appeals through its sheer natural beauty of looming volcanoes and lush terraced rice fields that exude peace and serenity. Bali enchants with its dramatic dances and colourful ceremonies, its arts and crafts, to its luxurious beach resorts and exciting night life. For this exotic island has much to offer, from inspirational spirituality to fine dining and meeting experiences, from world class surfing and diving to exhilarating treks in the wild. And everywhere you will find intricately carved temples.
For, the Balinese, who embrace the Hindu religion, are a most devout people where a large part of their lives is dedicated to rites and ceremonies aimed at maintaining harmony in this world. Indeed, this relatively small island holds many surprises.
This is a miraculous island indeed, for after decades of popularity, Bali continues to amaze both local and international visitors alike. Here gather a variety of visitors from around the globe: from those who come to surf the waves of Kuta, Uluwatu and Dreamland, to others who love the panoramic beauty of mountains and lakes at Batur, Kintamani, or Lake Beratan at Bedugul, to those who merely love shopping or spend endless days on the beach.
Tanah Lot Temple in Bali
Bali's Scenic Sea Temple
Tanah Lot Temple is one of Bali's most important landmarks, famed for its unique offshore setting and sunset backdrops. An ancient Hindu shrine perched on top of an outcrop amidst constantly crashing waves; Tanah Lot Temple is simply among Bali's not-to-be-missed icons.
The onshore site is dotted with smaller shrines alongside visitors' leisure facilities that comprise restaurants, shops and a cultural park presenting regular dance performances. The temple is located in the Beraban village of the Tabanan regency, an approximate 20km northwest of Kuta, and is included on most tours to Bali's western and central regions.
Legend of Tanah Lot
Dang Hyang Nirartha, a high priest from the Majapahit Kingdom in East Java who travelled to Bali in 1489 to spread Hinduism, arrived at the beautiful area and established a site honouring the sea god, Baruna. Here, he shared his teachings to Beraban villagers, only to face opposition from the village chief who soon gathered his loyal followers to dispel Nirartha. The priest resisted, incredibly shifting a large rock he meditated upon out to sea while transforming his sashes into sea snakes to guard at its base. The rock's original name, Tengah Lod, means 'in the sea'.
Acknowledging Nirartha's powers, the humbled chief vowed allegiance. Before setting off, Nirartha gifted him a holy kris dagger, which is now among the sanctified heirlooms of the Kediri royal palace. Pilgrims bring these relics each Kuningan day by foot on an 11km pilgrimage to the Luhur Pakendungan temple, the priest's former meditational site.
Tanah Lot Highlights and Features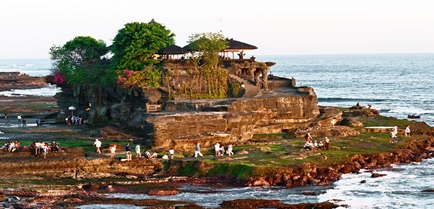 After centuries of large waves persistently crashing at its rock base, Tanah Lot faced the constant threat of erosion, reaching a significant decline in 1980. The authorities carried out preservation efforts to Tanah Lot and other historical sites island-wide with aid from the Japanese government. Fully restored, a third of the present Tanah Lot is actually artificial rock.
At high tide, waves flood the causeways making it impossible to cross. At low tide, you may cross to view the rock base where the legendary 'guardian' sea snakes dwell in crevices around the Tirta Pabersihan fountain. This natural spout is the source of holy water for all the temples in the area. Priests at the fountain bless visitors by sprinkling holy water over their heads. You can cup your palms and take a sip to prove it is amazingly fresh water.
Onshore temples include the Penyawang, a spiritual proxy to Tanah Lot that hosts pilgrims when the main offshore temple is inaccessible during high tide. Other smaller temples around the site host prayer sessions for various aspects of the villagers' agrarian life, from good rice harvests to rites of passage. North of Tanah Lot is Batu Bolong, similarly built on a rock formation with a 'hollow' overpass linking to the mainland.
Convenient pathways and well-kept tropical gardens line the grounds from Tanah Lot to Batu Bolong, with resting spots offering shades and good viewpoints to both outcrops. Art shops selling souvenirs and curios of all sorts line the pathway from the parking area to the temple, also with peddlers selling traditional snacks such as jaja kelepon –yummy, must-try palm sugar-filled gelatinous balls rolled in grated coconut.
Alas Kedaton: Bali Sacred Monkey Forest Sanctuary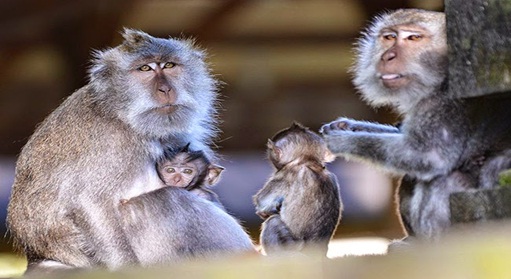 Attractions, Monkey Forest, Alas Kedaton: Bali Sacred Monkey Forest Sanctuary
Alas Kedaton monkey forest is one of the most famous holy monkey forest sanctuary in Bali, the forest covers 6.4 hectares inhabited by monkeys and big bats, the name Alas Kedaton is taken from the Balinese words "Alas" which means forest and "Kedaton" means the palace (formerly called Keraton). Alas Kedaton monkey forest is a sacred monkey forest located in Kukuh village, Marga district, Tabanan regency, about 35 kilometers from Denpasar city. Kedaton Forest is a small rain forest but it's one of the famous holy monkey forest in Bali island.
The Monkey at Alas Kedaton Forest
The species of monkeys that live in Bali island and also in Alas Kedaton Forest is the crab-eating macaque (the scientific name is Macaca Fascicularis), also known as the long-tailed macaque is a cercopithecine primate native to Southeast Asia. It is referred to as the cynomolgus monkey in laboratories. It has a long history alongside humans, they have been alternately seen as agricultural pests, sacred animals in some temples, and more recently, the subject of medical experiments. The crab-eating macaque lives in matrilineal social groups with a female dominance hierarchy in the wild, and male members leave the group when they reach puberty. The significant overlap in macaque and human living space has resulted in greater habitat loss, synanthropic living, and inter- and intra-species conflicts over resources.
The body length of the adult, which varies among subspecies, is 38–55 cm (15–22 in) with relatively short arms and legs. Males are considerably larger than females, weighing 5-9 kilograms (11-20 lb) compared to the 3–6 kg (7-13 lb) of females. The tail is longer than the body, typically 40–65 cm (16–26 in), which is used for balance when they jump distances up to 5 meters (16.4 feet). The upper parts of the body are dark brown with light golden brown tips. The under parts are light grey with a dark grey/brown tail. Crab-eating macaques have backwards directed crown hairs which sometimes form short crests on the mid-line. Their skin is black on their feet and ears, whereas the skin on the muzzle is a light grayish pink color. The eyelids often have prominent white markings and sometimes there are white spots on the ears. Males have a characteristic mustache and cheek whiskers, while females have only cheek whiskers. Crab-eating macaques have a cheek pouch which they use to store food while foraging. Females show no perineal swelling.
Alas Kedaton Temple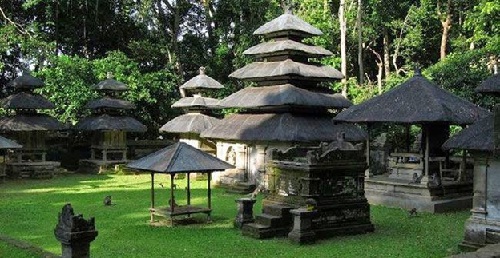 Alas Kedaton temple is a megalithic Hindu temple relics of ancient times, which is located in the middle of theKedaton forest. The temple was built by Mpu Kuturan during the reign of King Cri Masula Masuli in Bali around 1178 AD - 1255 AD.
Alas Kedaton holy monkey forest is one the most popular monkey forest in Bali, and becoming a favorite tourist destination. This place will be visited by many tourists especially on public holidays. Visitors will usually be assisted by a local guide who knows the area around the forest to have a look around surrounding the temple and forest areas. The monkeys in the Kedaton forest are very friendly but visitors are always be advised to take care their belongings and not stay too close with the monkeys because sometimes they can also attack when they feel disturbed. Not far from this location also provides shops selling souvenirs, a playground for children, and other facilities.
The Taman Ayun Temple of Mengwi
Taman Ayun literally translates as 'beautiful garden' and is generally regarded as one of the most attractive temples of Bali. The Taman Ayun temple is situated in a beautiful park with trees and ponds, near the village of Mengwi in the south of Bali at about 8 km southwest of Ubud and 18 km northwest of Denpasar.
Pura Taman Ayun was built in 1634 by the Raja of Mengwi, I Gusti Agung Putu. It is a socalledPura Kawiten or family temple, a special temple where the deified ancestors of the Raja Dynasty of Mengwi and important gods of other temples are honored.
The Taman Ayun temple is boardered by broad canals and it can only be entered via a bridge leading to a richly ornamented candid bentar, the gate which gives access to the outer courtyard (jaba) of the temple.From this candi bentar a straight, paved footpath leads through the well maintained park past a square pond with a fountain exactly in its center. This fountain has nine water jets, four of which are positioned according the cardinal points, another four according the sub-cardinal points and the ninth in the center, symbolizing the Dewa Nawa Sanga, the nine main gods of Balinese Hinduism.
The footpath leads on to a second candi bentar which gives access to the jaba tengah, the more elevated, second courtyard of the temple.
Inside the jaba tengah one finds the walled jaba jero, the third and most holy courtyard of the temple in which the most important shrines are located, among others a number of five, seven, nine and eleven tierd meru's. The jaba jero is only accessible during important religious ceremonies, such as the odalan – the day on which the inauguration of the temple is commemorated.
The odalan of the Taman Ayun temple takes place every 210 days on a day called Anggara Kasih, the Tuesday of the week Medangsia of the Balinese Pawukon calendar. The ceremonies of this odalan cover a period of several days.
Temple Position and Function
The function of Taman Ayun Temple is a place to pray the god in their manifestation. It is according to the content of Babad Mengwi and the existence of temple building structure, especially the temple that is located in third area (Jeroan). According to Astadewata, the special God is worshiped in Taman Ayun Temple is the God in manifestation as a Wisnu God which his palace located in top of Mangu mount. In papyrus of Usana Bali mentioning that one of Dewa Catur Lokapalas carry through its worship is Meru Pucak Pangelengan that is a temple building with 9 multistoried roofs. Pitara God is a holy soul deity of ancestor who is also referred as the other names of Hyang Pitara or Dewa Hyang. Pitara God is obliged to be worshiped by clan heir (Prati Sentana) in the form of temple ceremony which the same meaning as by the ceremony to the god. The worshiping existence to Pitara God in Taman Ayun Temple can be searched and proved by pursuant to the existence of temple building which lay in by consecution in east which is called Paibon that is representing Special Temple. Taman Ayun Temple in capacities or its status as special altar for the King family of Mengwi Palace or as a Merajan Agung from Mengwi King Families specially for the founder of Mengwi Empire that is I Gusti Agung Putu.
Road Map from the airport to Pan Pacific Nirwana Hotel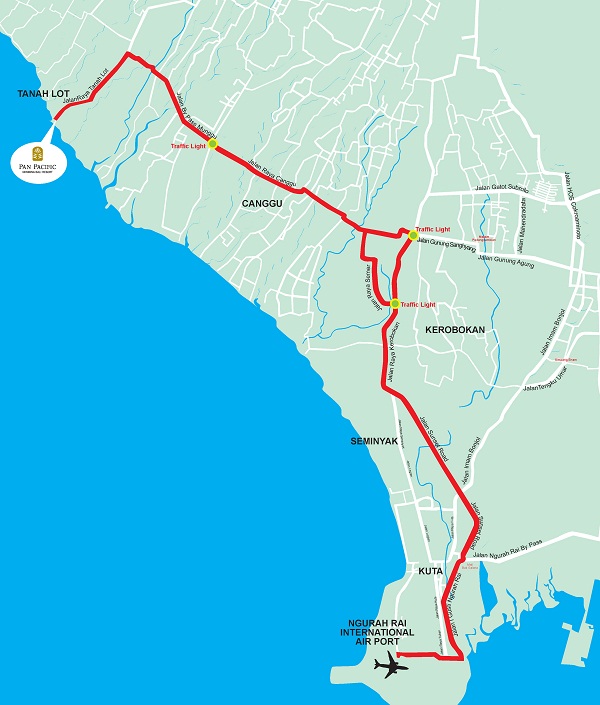 Note:
The distance from the airport to the venue (Pan Pacific Nirwana Hotel) its about 45km - around 45min - 1 hour.